Delighted to announce, two of our products have received prestigious Great Taste Award 2019.
Thursday, 26 September 2019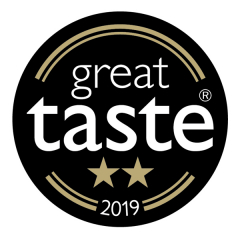 It's a pride moment for all of us that we have been winning Great Taste award for last 3 consecutive years.
This shows our commitment to offer great quality products to our consumers. 
Niharti Rapeseed Oil 2 Star
"A gorgeous golden oil with a beautiful aroma, containing notes of sweetcorn, asparagus and grass. This is a light, smooth oil with a mellow flavour pleasingly reflective of that aroma. We also enjoyed the creamy texture and delicious aftertaste. 'The best rapeseed oil I've ever tried,' said one judge. Very well done indeed."
"A field of sunshine!' Incredibly sunny in the glass. Absolute stunning gold colour. Thick and glossy and is velvet on the palate. The flavour is gentle and nutty without any of the bitter brassie notes. Long finish and clean mouthfeel. Delicious."
"Hazelnuts come through strongly on the palate. Lightly coats the mouth. Fresh and clean. No bitterness. A well-made product."
"Bright and attractive golden colour.  Aromas of brasicca and fresh peas.  Buttery, delicate and sweet nutty flavour. A very mellow rapeseed oil." "This oil has a beautiful golden appearance and a nutty complex flavour that lingers for a decent time on the palate. A strong product." 
Niharti Avocado Oil 1 Star
"Beautiful colour and crisp-looking. A smooth flavour profile and buttery, creamy texture - evocative of ripe avocado. Mild, but with enough flavour to be of interest."
"This delivers the creamy fatty mouth feel you expect from an avocado and with a good vinegar would make a delicious dressing."
Related Products