Great Taste Award - Top-Op Alphonso Mango Pulp
Friday, 25 September 2020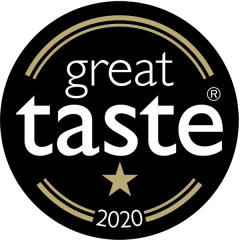 Some feedback from Great Taste Team...
This has a very bright cheerful colour and plenty of exciting exotic fruity aroma. The pulp is smooth, rich and creamy and has an initial fruity sweetness and bright acidity. There is also a touch of bitterness that tastes like the astringent skin but overall this has a fresh feel and would be fun to use in the kitchen.
This is bursting with fresh fruit flavour and has the natural sweetness of perfectly ripe Alphonso mangoes. It has retained a fresh and vibrant colour and its smooth consistency makes it a versatile and easy to use ingredient.
Related Products